SRI global brand combining Sri Lanka's best from traditional textile heritage and apparel industry tech was launched in the presence of local and international fashion and business leaders.
SRI is an inspiring bridge between two worlds. Hailing from Sri Lanka, this newly launched trans-seasonal womenswear brand is a unique and creative meeting of the millennia-old wisdom of the island, its progressive fashion manufacturing technology and the sophisticated demands of global high fashion. Spearheaded by visionary entrepreneur and founder of AOD - Linda Speldewinde, and channelled through with the support of local apparel industry and international fashion elite, SRI presents Sri Lankan creativity on the world stage by redefining and updating the country's ancient textile craftsmanship with contemporary design and new technology. As the country takes on high-end fashion by making the best use of its unique heritage, apparel manufacturing technical know-how,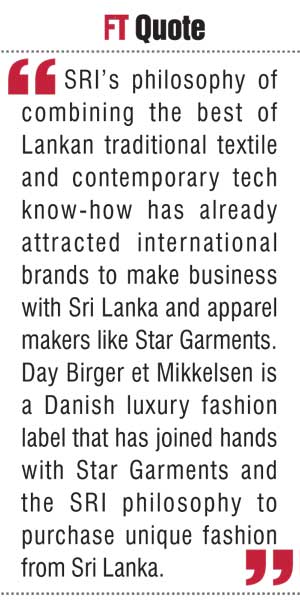 design talent and sustainability, SRI presents the future of Sri Lankan fashion. SRI was recently launched to an exclusive local audience and an international delegation of buyers, retailers and fashion elite gathered at the private studio of renowned artist Anoma Wijewardene in Colombo –a location carefully handpicked to depict the tastes and lifestyle of the international woman, a cultured expressionist, an intellectual artist and luxury urbanite with a creative mind and an idiosyncratic love of travel, culture and style that reflects the woman the brand aspires to cater to.

SRI clothes are defined by the personality of the wearer rather than their context or time of the year at which they are worn. SRI clothes serve as a source of comfort, self-confidence and self-expression as effortlessly in the urban jungles of London and New York in winter as amidst the rainforests and beaches of their island of origin in the blaze of summer.The SRI story was discussed in depth at the recently concluded Sri Lanka Deign Festival. Linda Speldewinde, the founder of SRI spoke about the how the project came to be; "We are a platform that combines low-tech, traditional heritage craftsmanship out of Sri Lanka with the high-tech end of the textile industry. This has been an initiative 10 years in the making. It has come to life withlow-tech and high-tech coming together and our apparel industry is now taking what was made by our cottage industry as high fashion, to the world."

Among the first apparel industry partners to come forward collaborate with traditional handloom was Star Garments. Star Garments' Vice President Chamath de Alwis also spoke about the project and mentioned how the initiative to use traditional handloom in their factories coincided with Star's philosophy to done something unique; "My first response to this proposal was 'no way' because the textiles were so different to what we have handled before. It was very delicate and fragile – which we have done before in very small qualities for international brands, but this was a different world altogether. But, Star Garments has been in the industry for 37 years now catering to many luxury brands in the world. It has always been our wish to do something special. So, when we really looked at the concept and the idea behind it, we saw how it can really help us become a game-changer and open many doors to us."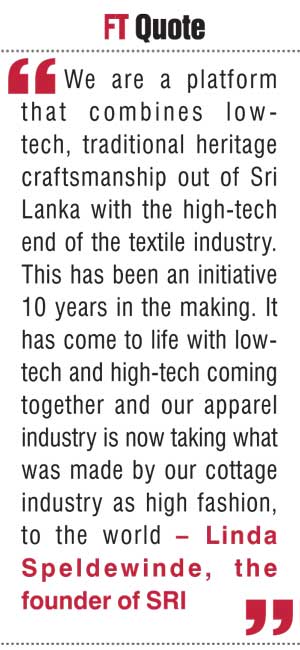 SRI's philosophy of combining the best of Lankan traditional textile and contemporary tech know-how has already attracted international brands to make business with Sri Lanka and apparel makers like Star Garments. Day Birger et Mikkelsen is a Danish luxury fashion label that has joined hands with Star Garments and the SRI philosophy to purchase unique fashion from Sri Lanka.
The founder of Day Birger et Mikkelsen, Danish fashion mogul Keld Mikkelsen visited the island and experienced the inspiring process behind SRI that brought together designers, rural artisans and apparel industry workers. Mikkelsen spoke about his experience and stated that he was inspired; "I've been to the villages to see the artisans weaving these beautiful fabrics and then to the massive factories of Star where the final manufacturing was taking place, and it was fantastic. It wasn't people working through computers but face to face and with each other and it was a great experience."
Linda Speldewinde, the founder of the initiative further stated that true innovation is the way that Sri Lankan fashion can attract the world's attention, and this is what is being done with Sri and global collaborations between the likes of Star Garments and Day Birger et Mikkelsen; "I think we have to use all our country's strength. If we have real innovation buyers will come to us. DAY didn't just do this one collection with us and walk away- but it opened new ways to do more work with them and were finding ways to involve more and more people from the industry – for example we involved Textured Jersey to make some of the fabrics for the next collection with DAY. The next step is to convince labels like DAY to source not just handloom based special pieces from Sri Lanka, but even their other collections. Already DAY was very impressed with Star Garment's offering in manufacturing casual ranges and I think we're elevating the entire apparel industry's product offering here. I see many more opportunities like this coming in the future."
SRI is expected to take this vision forward and directly retail fashion that merges high-tech apparel and the exquisite beauty of traditional handloom. Combining the likes of bold emblems of the Dumbara weavers in the hills of Kandy, the complex patterns of the Gampaha district in the Western Province and the supreme know-how of the country's manufacturing industry SRI promises to open new doors for the Sri Lankan fashion industry to  bring in business from all over the world. As Sri Lanka's fashion industry moves with innovation and design, this strategic move from manufacturing to branding will be set the country apart.  This future is what SRI presents in a bold move to establish Sri Lankan fashion in international fashion.
http://www.ft.lk/article/509711/Ground-breaking-fashion-brand--SRI--debuts